Highest-level security
We know that clients care for security of their money and data even more than for low prices. Therefore, we constantly improve and install the newest security systems.
Paysera – the first licensed e-money institution in Lithuania
---
---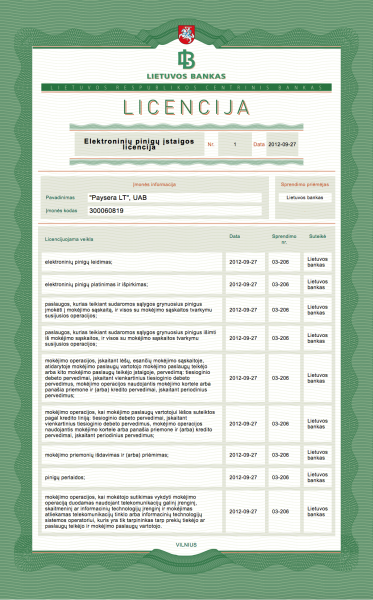 Special e-money institution license
Since 2012, Paysera is a licensed e-money institution with the right to execute the activity related to issuance of e-money and provision of payment services all around the European Union. The e-money institution license was issued by
the Bank of Lithuania
.
Money is safe
All funds transferred to your Paysera accounts are separated from the funds of the company and cannot be used for company needs, loaned or invested. All money is kept only in reliable credit institutions of the European Union.
Supervision of the Bank of Lithuania
The institution is periodically checked and audited by the
Bank of Lithuania
, which ensures the transparency and impeccable activity of Paysera. Official website of Bank of Lithuania:
www.lb.lt
.
International PCI DSS security certificate
---
---
Process and data protection
---
---
Client data security
Paysera is registered in the State Data Protection Inspectorate registry www.ada.lt (registration code P3127). Client data is processed in accordance with the law of the Republic of Lithuania and other legal acts, as well as these
Privacy Policy provisions
.
Round the clock monitoring
Paysera uses a variety of systems for monitoring both operation of the system itself and operations performed by our clients.
Data are encrypted
Client's communication channel with Paysera is coded, so that no one could intercept transferred data.
Periodical scanning and audit
Paysera system is periodically scanned using the most advanced instruments, and the programming code is checked by external safety experts.
Secure connection to the system
When logging in to Paysera, make sure that you have entered the correct address with one of www.paysera.* domains. The security certificate used on the Paysera page is issued by Paysera LTD. More security criteria and recommendations can be found
here
.
Additional security instruments
You too can contribute to your account security by setting several security measures for login to the system and execution of transfers.
Client identification
To ensure the safety of clients' money and prevent fraudulent activity, Paysera applies the
Know Your Client (KYC) principle
. First and foremost, it is the request to clients to provide their personal data, answer questions related to their financial transactions, and only then – monitoring, analysing, and, in case of suspicion, undertaking relevant actions.
Compliance with Visa safety requirements
The Visa payment card complies with the highest safety requirements. The card is protected with the 3D Secure (Verified by Visa) technology which makes online purchases even safer.
Our team of developers work continuously to keep client information secure. At the same time, we understand important role that security researchers and our user community play in helping to keep clients data secure. If you discover a site or product vulnerability, please notify us using the
Bug Bounty Programme guidelines
.